CO3 gives highly specialized Training Courses on Fired Equipment.
Download our CO3 Combustion School brochure here.
Contact us for a customized Training Course!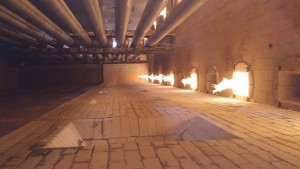 CO3 is a professional Oil & Gas Service provider specialized in Combustion. CO3 aims to be the leader of Training Courses for Oil & Gas Organizations focused to excellence.
CO3 is already recognized by the world's most important Oil & Gas Operator, Contractor and Vendor Companies and provides Basic to Advanced Level Training Courses for Fired Items.
Our offer in terms of Training Courses includes:
Theory Class
Combustion Fundamentals
Design Guidelines
Instrumentation and Controls
Waste Types
Pollution Emissions
Equipment Components
Down-fired system
Low-NOx Systems
Ultra Low-NOx Systems
Maintenance
Item General Overview
Theory of Operation
Operating Characteristics
Equipment Advantages
CLASSROOMS
IN-OFFICE & COMBUSTION TEST AREA
General Training Courses can be a combination of:

Combustion

Basic CTC101 (8h)
Intermediate CTC102 (12h, requires CTC101)
Advanced CTC103 (16h, requires CT102)
Heat Transfer

Basic HTC101 (4h)
Intermediate HTC102 (16h, requires HTC101)
Advanced HCT103 (24h, requires HTC102)
Fundamentals on Fired Items

Fired Heaters FIC111 (16h, requires at least CTC101 and HTC101)
Reformer Heaters FIC112 (16h, requires at least CTC101 and HTC101)
Thermal Oxidizers FIC 113 (16h, requires at least CTC101)
Flares FIC114 (16h, requires at least CTC101)
Boilers FIC115 (16h, requires at least CTC101 and HTC101)
Burners FIC116 (16h, requires at least CTC101)
Operation & Maintenance of Fired Items

Fired Heaters OMC111 (16h, requires FIC111)
Reformer Heaters OMC112 (16h, requires FIC112)
Thermal Oxidizers OMC113 (16h, requires FIC113)
Flares OMC114 (16h, requires FIC114)
Boilers OMC115 (16h, requires FIC115)
Burners OMC116 (16h, requires FIC116)
Instrumentation applied to Fired Items

Basic ICC121 (8h)
Advanced ICC122 (16h)
Detection & Prevention of Combustion Hazards on Fired Items

Basic DPC191 (8h)
Advanced DPC192 (16h)
COMBUSTION TEST AREA
The Combustion Test Area, located in Northern Italy, is the best way to learn from real flames in a friendly and safe environment.
All the Intermediate and Advanced Training Courses and the Tailor-Made Training Courses (upon request) include the use of the Combustion Testa Area.
The major activities in the Combustion Test Area are:
HSE Briefing before entering the Area
Operation and Training and Set-Ups of real instrumentation based on the instruments installed in Oil & Gas plants, such as:

Combustion Ignitors
Flame Detectors
Thermocouples
Oxygen and Flue Gas Analyzers
Install & Disassembly and check each component of a real:

Process Burner
Pilot Burner
How to make a Spark Test and Flame Test
Monitor real Flames – FG, FO, Combined

Explanation for different sizes, behaviours, colours
Make real Measurements – FO, FG, Comb. Air

Temperature, Pressure, Flow Rate
Detect & Evaluate real Flue Gases – NOx, CO, O2

How to reduce pollutants and best combustion set-ups for operation
Simulations of issues and Troubleshooting:

Pilot Burner Ignition
Pilot Burner flame behaviour
Pilot Burner flame detection
Process Burner ignition
Process Burner flame behaviour
Process Burner flame detection
TAILOR-MADE TRAINING COURSES
IN-OFFICE & COMBUSTION TEST AREA and/or ON-SITE
Tailor-Made Training Courses are prepared based on your specific requirements and are focused on a combination of:

Process
Operation & Control
Maintenance
Mechanics
Instrumentation
Automation
Tailor-Made Training Courses are mainly held On-Site and they are addressed to :
Commissioning & Start-Up Engineers & Technicians
Operation Engineers & Technicians
Maintenance Engineers & Technicians
TRAINING COURSE LOCATIONS
On-Site: Training Courses held directly to your Plant, based on your specific requirements
In-Office: Training Courses held at our CO3 Training Centers in Northern Italy or at, your request, directly at your own Offices
Combustion Test Area: Training Courses held in the Combustion Test Area in Northern Italy
In case of Training Courses in Italy, CO3 provides assistance on logistics in order to ease the Visa process and accommodation of our Estimated Guest Companies.
TRAINING COURSE DURATION
The Training Courses duration depends on the Training Course Level and subject.
In general, the duration of the Training Course is (for details, please refer to the Training Course list above):
Basic: 8 hours – 1 day in Classroom
Intermediate: 16 hours – 1 day in Classroom + 1 day in the Combustion Test Area
Advanced: 16 or 24 hours – 1 day in Classroom + 2 days in the Combustion Test Area
For Tailor-Made Training Courses duration is based on your specific requirements.
TRAINERS
CO3's Trainers are fully specialized in Combustion and Heat Transfer.
Each CO3 Trainer has more than 10,000 hours of On-Site experience in the specific field of the trained topic.
FINAL TEST & COMPLETION CERTIFICATE
At the end of the Training Courses a Completion Certificate is issued upon passing the Final Test
In case of longer Training Courses (two weeks or more), a Weekly Test will be held every week, and discussed and corrected the following day
All the Training Courses are in English or Italian language.